Ad blocker interference detected!
Wikia is a free-to-use site that makes money from advertising. We have a modified experience for viewers using ad blockers

Wikia is not accessible if you've made further modifications. Remove the custom ad blocker rule(s) and the page will load as expected.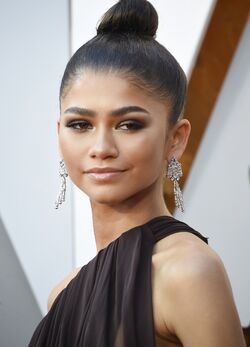 Zendaya Coleman will portray Michelle in the upcoming Spider-Man: Homecoming.
Significant roles
Rocky Blue in Shake It Up! (2010-2013)
Rocky Blue in Good Luck Charlie (2011)
Fern in Pixie Hollow Games (2011)
Halley Brandon in Frenemies (2012)
Sequoia in A.N.T. Farm (2012)
Lollipop in Super Buddies (2013)
Zoey Stevens in Zapped (2014)
Cut-Throat in Taylor Swift: Bad Blood (2015)
K.C. Cooper in K.C. Undercover (2015-2017)
Quotes
"I've never been in a real movie before or anything like that, so I had to start from the bottom like anyone else. I auditioned and auditioned and auditioned and broke down those walls because a lot of people do have that pre-conceived notion of who I am based off previous things I've done, so you got to really break that down and go hard, put in the work, take all the meetings, take all the auditions."
"This is awesome. This is one of the coolest things that I think I've ever done in my entire life and I get to do it with really cool people. My cast is like, they're so nice, they're so real and so funny in real life and on-screen. So it's just like, to be able to share this with them is da bomb and I'm just very lucky and very, very excited."
Trivia