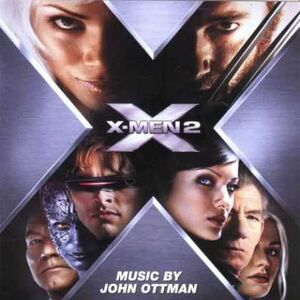 X2 is the soundtrack to the film of the same name with Music composed by John Ottman.
Track list
1. Suite from X2
2. Storm's Perfect Storm
3. Finding Faith
4. Sneaky Mystique
5. Cerebro
6. Mansion Attack
7. Rogue Earns Her Wings
8. It's Time
9. Magneto's Old Tricks
10. I'm In
11. If You Really Knew
12. Playing with Fire
13. Death Strikes Deathstryke
14. Getting Out Alive
15. Goodbye
16. We're Here to Stay
Ad blocker interference detected!
Wikia is a free-to-use site that makes money from advertising. We have a modified experience for viewers using ad blockers

Wikia is not accessible if you've made further modifications. Remove the custom ad blocker rule(s) and the page will load as expected.