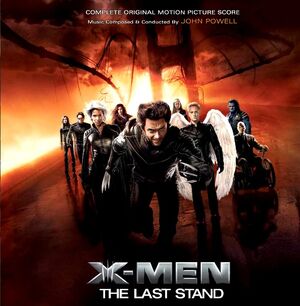 X-Men: The Last Stand is the soundtrack of the 2006 film of the same name composed by John Powell released on May 23, 2006 by Varèse Sarabande.
Track list
20 Years Ago
Bathroom Titles
The Church of Magneto/Raven Is My Slave Name
Meet Leech, Then Off To the Lake
Whirlpool of Love
Examining Jean
Dark Phoenix
Angel's Cure
Jean and Logan
Dark Phoenix Awakes
Rejection Is Never Easy
Magneto Plots
Entering the House
Dark Phoenix's Tragedy
Farewell to X
The Funeral
Skating On the Pond
Cure Wars
Fight in the Woods
St Lupus Day
Building Bridges
Shock and No Oars
Attack on Alcatraz
Massacre
The Battle of the Cure
Phoenix Rises
The Last Stand
Ad blocker interference detected!
Wikia is a free-to-use site that makes money from advertising. We have a modified experience for viewers using ad blockers

Wikia is not accessible if you've made further modifications. Remove the custom ad blocker rule(s) and the page will load as expected.