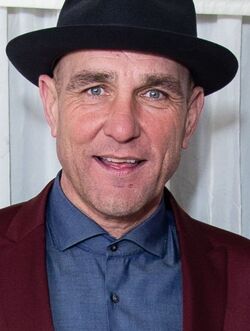 Vinnie Jones portrayed Cain Marko/Juggernaut in X-Men: The Last Stand.
Significant roles
Big Chris in Lock, Stock and Two Smoking Barrels (1998)
The Sphinx in Gone in Sixty Seconds (2000)
Marco in Swordfish (2001)
Mad Maynard in EuroTrip (2004)
Johnny Doyle in Johnny Was (2006)
Det. Brice in Played (2006)
Dinklage in She's the Man (2006)
Billy Wings in Hell Ride (2008)
Mr. Hunter in Legend of the Bog(2009)
Keith Ritson in The Irishman (2010)
Quotes
"He's a big tough guy. What is he 6 foot 6? He has ridiculous strength and when he gets going he's unstoppable. Not even another Juggernaut could stop him head on you know. When he gets his helmet down he runs through walls as if they're not there."
"I said this to Brett the other day, and he was saying that they'll probably use a lot of the characters for X-Men Origins: Wolverine. Hopefully the Wolverine/Juggernaut rivalry will come into it. There might be something for me and him to get together."