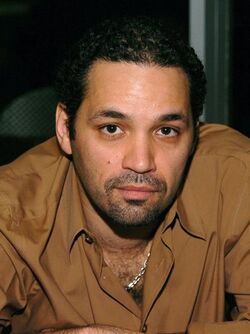 Vincent Laresca portrayed a Construction Worker in The Amazing Spider-Man and Tony Diaz in Agents of S.H.I.E.L.D. episode "FZZT".
Significant roles
Hector Belaflores in New York Undercover (1994-1996)
Patches in Extreme Measures (1996)
Abra in Romeo + Juliet (1996)
Carlos Martinez in 413 Hope St. (1997-1998)
Raymond Camacho in Flawless (1999)
Ernie in Animal Factory (2000)
Navarro in K-Pax (2001)
Officer Rodriguez in Hollywood Homicide (2003)
Marco in Tru Calling (2003)
Hector Salazar in 24 (2003-2004)
Aurelio in Kiss Kiss Bang Bang (2005)
Chino in Lords of Dogtown (2005)
Alejandro in Weeds (2005-2006)
Case Worker in The Fast and the Furious: Tokyo Drift (2006)
Antonio Riaz in CSI: Miami (2006)
Pavon in Gardener of Eden (2007)
Fence in Drillbit Taylor (2008)
Kenny Verdasco in Suits (2011)
Rafael Cortes in Graceland (2013)
Quotes
Please add a list of quote from this performer about their work in Marvel Movies!
Ad blocker interference detected!
Wikia is a free-to-use site that makes money from advertising. We have a modified experience for viewers using ad blockers

Wikia is not accessible if you've made further modifications. Remove the custom ad blocker rule(s) and the page will load as expected.