Ad blocker interference detected!
Wikia is a free-to-use site that makes money from advertising. We have a modified experience for viewers using ad blockers

Wikia is not accessible if you've made further modifications. Remove the custom ad blocker rule(s) and the page will load as expected.
Novelization
Hi -- Just wanted to say that your page on the Iron Man novelization is amazing! I love the detailed list of differences. -- Danny
(talk) 13:55, 14 May 2008 (UTC)
Thanks. I just finished reading it the night before and wanted to get it written down before I forgot it all.--ARTaylor 16:10, 14 May 2008 (UTC)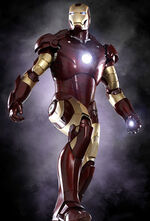 Welcome
Hi, welcome to the Marvel Movies wiki! Thanks for your contributions.
Here's a wiki tip for you -- you can sign your name on discussion pages by typing ~~~~ which automatically adds your signature and the date.
Check out the FAQ for more tricks.
Please leave a message on my talk page if I can help with anything! - Lucas [ talk ] 21:07, 13 May 2008 (UTC)