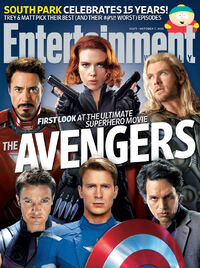 Entertainment Weekly has put
The Avengers
cast on the cover of their newest issue, at right, and also provided some photos from the set, below.
In the photos you can see Robert Downey Jr. as Iron Man, Chris Evans as Captain America, Scarlett Johansson as Black Widow, Chris Hemsworth as Thor, Jeremy Renner as Hawekeye, and Mark Ruffalo as Bruce Banner.
Ad blocker interference detected!
Wikia is a free-to-use site that makes money from advertising. We have a modified experience for viewers using ad blockers

Wikia is not accessible if you've made further modifications. Remove the custom ad blocker rule(s) and the page will load as expected.