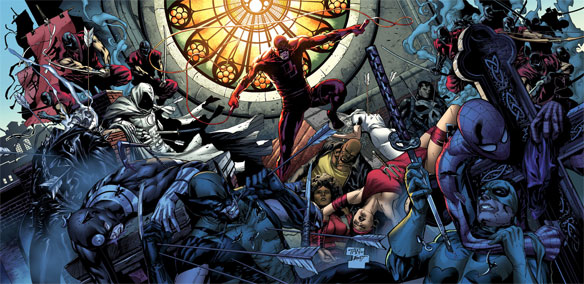 Keeping up with the times, Disney and Netflix announced today that Marvel TV will be bringing multiple original series to the digital streaming network in 2015. Marvel will develop four serialized programs based on the characters from Marvel's Hell's Kitchen" group -- Daredevil, Jessica Jones, Iron Fist, and Luke Cage. Netflix has signed on to a MINIMUM of thirteen episodes per series. When the four core series are over, everything will come together in "The Defenders" mini-series event, which seeks to "reimagine a dream team of self-sacrificing, heroic characters."
We definitely can't wait for this one. The wait until 2015 is going to be a long one. Let us know your thoughts in the comments.
---
---
Ad blocker interference detected!
Wikia is a free-to-use site that makes money from advertising. We have a modified experience for viewers using ad blockers

Wikia is not accessible if you've made further modifications. Remove the custom ad blocker rule(s) and the page will load as expected.