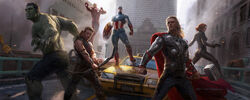 Although we still have three more weeks until the premiere of The Avengers, Marvel is live streaming the world premiere red carpet event of the film on April 11 at 6 PM PST/ 9 PM EST.
The star-studded red carpet event will feature Robert Downey Jr (Tony Stark/Iron Man), Chris Evans (Steve Rogers/Captain America), Mark Ruffalo (Bruce Banner/Hulk), Chris Hemsworth (Thor), Scarlett Johansson (Natasha Romanoff/Black Widow), Jeremy Renner (Hawkeye), Tom Hiddleston (Loki), Clark Gregg (Agent Phil Coulson), Stellan Skarsgård (Erik Selvig), Cobie Smulders (Maria Hill), Joss Whedon (Director) and more!
You can watch the event right here on the Marvel Database and follow @MarvelDatabase and @Avengers to chat with Marvel fans and staff here!
The Avengers Red Carpet
Ad blocker interference detected!
Wikia is a free-to-use site that makes money from advertising. We have a modified experience for viewers using ad blockers

Wikia is not accessible if you've made further modifications. Remove the custom ad blocker rule(s) and the page will load as expected.