If you were a fan of X-Men: First Class, you'll be delighted to hear that the director Matthew Vaughn will be returning for a second X-Men: First Class.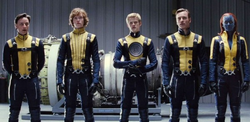 This all but confirms that there will indeed be a sequel to First Class, although we don't yet know under what capacity. In addition, FOX signed additional contracts with Simon Kinberg (script) and Bryan Singer (producer).
Do you think the relatively modest X-Men: First Class deserves a sequel, or do you prefer the original X-Men movies?
Ad blocker interference detected!
Wikia is a free-to-use site that makes money from advertising. We have a modified experience for viewers using ad blockers

Wikia is not accessible if you've made further modifications. Remove the custom ad blocker rule(s) and the page will load as expected.