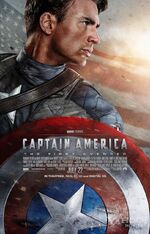 Have you seen the latest featurettes for Captain America: The First Avenger yet? These two TV spots were first aired on July 4th to promote America's most patriotic hero. The first featurette showcases Chris Evans as the First Avenger, setting us up for the rest of the Avengers series. We also get a first glimpse of a blonde Natalie Dormer of The Tudors and Game of Thrones fame.
The second featurette is quite special in that there is a very short footage from the actual Avengers film coming out in 2012!! I have very high hopes for both movies; watch the trailers and let us know what you think! Can Chris Evans be America's First Avenger?
Captain America: The First Avenger
Avengers and Captain America
Ad blocker interference detected!
Wikia is a free-to-use site that makes money from advertising. We have a modified experience for viewers using ad blockers

Wikia is not accessible if you've made further modifications. Remove the custom ad blocker rule(s) and the page will load as expected.