Over the years Fox (the studio behind the X-Men movie franchise) has been very cautious with Wolverine's look. They've certainly made a believable and modern version of the character. But now it's time to give the fans something that resembles the original Wolverine costume. After all, they pulled off the yellow suits in X-Men: First Class.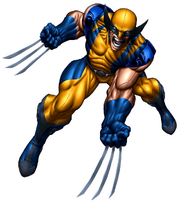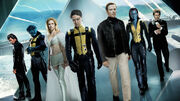 Today we have our first full glimpse at the X-Men: Days of Future Past trailer. In the trailer, we see Wolverine wearing a futuristic blue and black suit, which is interesting. But what is even more interesting is the yellow right arm. (It's difficult to see because of the lighting in the trailer.)  That's right, blue, yellow, and black; the classic colors for Wolverine.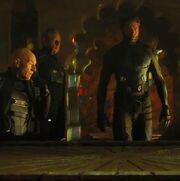 A VERY similar design to the classic Wolverine suit was made for The Wolverine (2013). The suit did not make it into the film. This photo has curiously been removed from sites and videos by Fox.
UPDATE! (11/8/13): An alternate ending from The Wolverine DVD/Blu-Ray surfaced today. It shows Yukio giving Logan a case. When he opens the case, the iconic Wolverine suit is inside. He gives Yukio a mean glare after he opens the case. Yukio says,"Interesting" and it goes to the credits. Here is a picture of the suit in the film:
The best evidence of a similar suit to the classic design appearing in Days of Future Past is from one of Bryan Singer's early pictures of the film.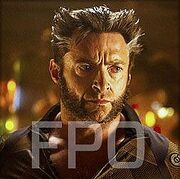 Even if the suit doesn't have some kind of mask similar to the classic design, it still pays homage to the original yellow suit.
Ad blocker interference detected!
Wikia is a free-to-use site that makes money from advertising. We have a modified experience for viewers using ad blockers

Wikia is not accessible if you've made further modifications. Remove the custom ad blocker rule(s) and the page will load as expected.