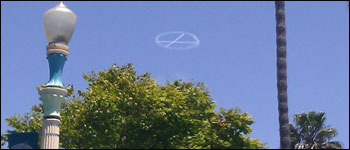 Anybody else seeing strange X's in the sky this weekend?
I was at the beach over Memorial Day Weekend and saw a plane sky-writing mysterious X's inside circles. My inner Wolverine was reminded that X-Men: First Class will be hitting theaters June 3rd.
I did some research this morning and WorstPreviews.com reported that lots of other people saw the X's and many posted photos on the web of the winged Fox marketing machine at work in California.
Check out this clip from youtube of a plane in X-Men action. Anyone see the sky-writing in states other than California?
Ad blocker interference detected!
Wikia is a free-to-use site that makes money from advertising. We have a modified experience for viewers using ad blockers

Wikia is not accessible if you've made further modifications. Remove the custom ad blocker rule(s) and the page will load as expected.