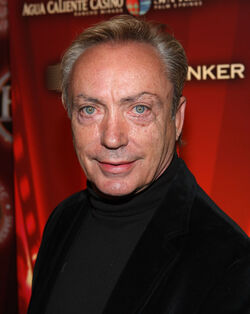 Udo Kier portrayed Gitano Dragonetti in Blade.
Significant roles
Baron Frankenstein in Flesh of Frankenstein (1973)
Dracula in Dracula cerca sangue di vergini...e morì di sete!!! (1974)
Jack the Ripper in Lulu (1980)
Dr. Henry Jeckyll in Dcoteur J
ekyll et les femmes (1981)
Adolf Hitler in 100 Jahre Adolf Hitle - Die letzte Stunde in Fuhrerbunker (1989)
Ron Camp in Ace Ventura: Pet Detective (1994)
Ralfi in Johnny Mnemonic (1995)
Lorenzini in The Adventures of Pinocchio (1996), The New Adventures of Pinocchio (1999)
Vincent in Modern Vampires (1998)
Dr. Porkorny in Dancer in the Dark (2000)
Count Helldorf in Invincible (2001)
Polidori in Feardot Com (2002)
The Man in the Coat in Dogville (2003)
Capt. Varna in Dracula 3000 (2004)
Bellinger in Cigarette Burns (2005)
Edouard Leopold Edu in Pray for Morning (2006)
Morgan Walker in Halloween (2007)
Father Johannes in La terza madre (2007)
Herr Jung in Soul Kitchen (2009)
Wolfgang Kortzfleisch in Iron Sky (2012)
Quotes
"I've done Stephen Norrington's Blade essentially because I loved the script. When I accept this kind of movies, in which I have a small role, I think of Ingrid Bergman who won a Oscar playing in just one scene."
Ad blocker interference detected!
Wikia is a free-to-use site that makes money from advertising. We have a modified experience for viewers using ad blockers

Wikia is not accessible if you've made further modifications. Remove the custom ad blocker rule(s) and the page will load as expected.