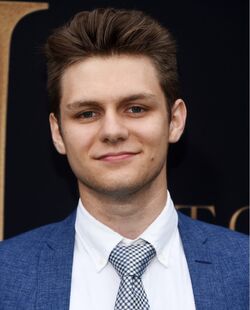 Ty Simpkins portrayed Harley Keener in Iron Man 3. 
Significant Roles
Matthew Egan in Pride and Glory (2008)
Michael Wheeler in Revolutionary Road (2008)
Luke in The Next Three Days (2010)
Dalton Lambert in Insidous (2011)
Nat in Arcadia (2012) 
Dalton Lambert in Insidious Chapter 2 (2013)
Grey Mitchell in "Jurassic World"(2015)
Quotes
"Well, I actually never thought about that but we did read an article. Have you ever heard about the comic book Nova?" Simpkins asked. "We read an article about how Harley might be my middle name, and Keener could be my mom's maiden name, and my dad could have joined the Nova Corps. Then my real name's Richie and I actually figure it out because my mom gets killed by an alien, then I figure out that my dad joined the Nova Corps, and I join the Nova Corps and I become Nova."
Ad blocker interference detected!
Wikia is a free-to-use site that makes money from advertising. We have a modified experience for viewers using ad blockers

Wikia is not accessible if you've made further modifications. Remove the custom ad blocker rule(s) and the page will load as expected.