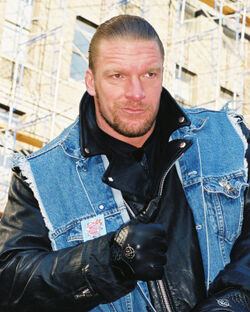 Triple H portrayed Jarko Grimwood in Blade: Trinity.
Significant roles
Wrestler in Relative Strangers (2006)
Arlo Jayne in Inside Out (2011)
Ray Bradstone in The Chaperone (2011)
Quotes
"You will look into my eyes and you will know I am The Game and that I am that damn good!"
"Why don't you make a contribution right now to my sanity, and do the one thing you never seem to be able to do... Shut up!"
"I'm going to give you a shot at this. Let's see what you've got, punk! I'll bring the belt, you bring the balls, if you got any."
"The sign says keep off my grass, but don't be afraid to stop by and whack the weed."
"I want to thank every employee of the Federation at every level, every position. Without them I wouldn't be able to live my dream."
Ad blocker interference detected!
Wikia is a free-to-use site that makes money from advertising. We have a modified experience for viewers using ad blockers

Wikia is not accessible if you've made further modifications. Remove the custom ad blocker rule(s) and the page will load as expected.