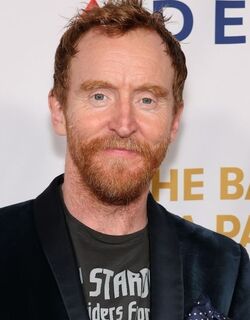 Tony Curran portrayed Priest in Blade II, Man in Black Agent in X-Men: First Class, Bor Burison in Thor: The Dark World and Finn Cooley in the Daredevil episode "Penny and Dime".
Significant roles
Archie Campbell in Dramarama (1986-1987)
Spider in Captives (1994)
Lenny in This Life (1997)
Orlick in Great Expectations (1999)
Det. Sgt. Skinner in Menace (2002)
Sgt. Pete Twamley in Ultimate Force (2002-2003)
Rodney Skinner/The Invisible Man in The League of Extraordinary Gentlemen (2003)
Marcus in Underworld: Evolution (2006)
Clyde in Red Road (2006)
Walken in Gemini Division (2008)
Knight in Primeval (2009)
Lugo Elson in 24 (2010)
Vincent Van Gough in Doctor Who (2010)
King Stephen in The Pillars of the Earth (2010)
Quotes
Please add some quotes from this performer about their work with Marvel movies!
Ad blocker interference detected!
Wikia is a free-to-use site that makes money from advertising. We have a modified experience for viewers using ad blockers

Wikia is not accessible if you've made further modifications. Remove the custom ad blocker rule(s) and the page will load as expected.