Ad blocker interference detected!
Wikia is a free-to-use site that makes money from advertising. We have a modified experience for viewers using ad blockers

Wikia is not accessible if you've made further modifications. Remove the custom ad blocker rule(s) and the page will load as expected.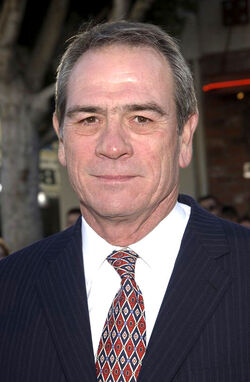 Tommy Lee Jones portrayed Colonel Chester Phillips in Captain America: The First Avenger. He also portrayed Kevin Brown/Agent K in Men in Black, Men in Black II and Men in Black III-D.
Significant roles
Howard Hughes in The Amazing Howard Hughes (1977)
Brick Pollitt in Cat on a Hot Tin Roof (1984)
Billy in The River Rat (1984)
Thomas Boyette in The Package (1989)
Clay Shaw in JFK (1991)
William Stranix in Under Siege (1992)
Samuel Gerard in The Fugitive (1993)
Steve Butler in Heaven & Earth (1993)
Ryan Gaerity in Blown Away (1994)
Roy Foltrigg in The Client (1994)
Warden Dwight McClusky in Natural Born Killers (1994)
Ty Cobb in Cobb (1994)
Harvey Dent/Two-Face in Batman Forever (1995)
Mike Roark in Volcano (1997)
Chief Deputy Marshal Samuel Gerard in U. S. Marshal (1998)
Chip Hazard in Small Soldiers (1998)
Col. Hayes "Hodge" Hodges in Rules of Engagement (2000)
Hawk Hawkins in Space Cowboys (2000)
L. T. Bonham in The Hunted (2003)
Samuel Jones/Chaa-duu-ba-its-iidan in The Missing (2003)
Pete Perkins in The Three Burials of Melquiades Estrada (2005)
Ed Tom Bell in Not a Country for Old Men (2007)
Hank Deerfield in In the Valley of Elah (2007)
Dave Robicheaux in In the Electric Mist (2009)
Gene McClary in The Company Men (2010)
Quotes
"I play the Colonel, sort of this gruff military man in charge of the unit that produces Captain America. I think there's always sort of one of 'me' in these films, but I like what Joe and Kevin [Feige] have tried to do to make it unique. This is a comic book movie, but this one also seems to strike a particular chord that is resonating right now on a national level. But not to get too big and heavy about it, they're meant to be fun, thrill rides, so I'm just going along with that. I get to yell at some people, order guys around, say something funny every now and again. It's a good time."