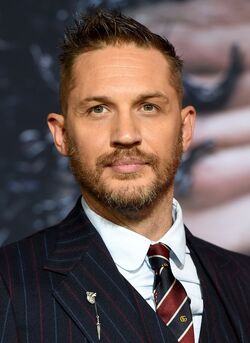 Tom Hardy will portray Eddie Brock/Venom in the upcoming Venom.
Significant roles
Lance Twombly in Black Hawk Down (2001)
Shinzon in Stark Trek: Nemesis (2002)
Clarkie in Layer Cake (2004)
Charles Bronson / Michael Gordon Peterson in Bronson (2008)
Handsome Bob in RocknRolla (2008)
Freddie Jackson in The Take (2009)
Eames in Inception (2010)
Tommy Riordan Conlon in Warrior (2011)
Ricki Tarr in Tinker Tailor Soldier Spy (2011)
Tuck Hansen in This Means War (2012)
Bane in The Dark Knight Rises (2012)
Forrest Bondurant in Lawless (2012)
Alfie Solomons in Peaky Blinders (2013-)
Ivan Locke in Locke (2013)
Bob Saginowski in The Drop (2014)
Leo Demidov in Child 44 (2014)
Max Rockatansky in Mad Max: Fury Road (2015)
Ronald and Reginald Kray in Legend (2015)
John Fitzgerald in The Revenant (2015)
James Keziah Delaney in Taboo (2017)
Farrier in Dunkirk (2017)
Quotes
Please add a list of quote from this performer about their work in Marvel Movies!
Ad blocker interference detected!
Wikia is a free-to-use site that makes money from advertising. We have a modified experience for viewers using ad blockers

Wikia is not accessible if you've made further modifications. Remove the custom ad blocker rule(s) and the page will load as expected.