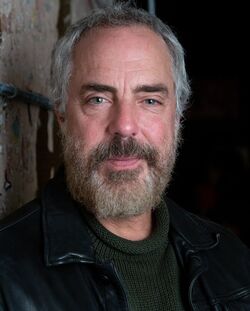 Titus Welliver portrays Agent Felix Blake in Marvel One-Shot: Item 47 and Agents of S.H.I.E.L.D. and will portray Triphammer in Powers.
Significant roles
Al Capone in Mobsters (1991)
Dr. Mondzac in N.Y.P.D. (1995-1998)
Larry White in Murder One (1996)
B.F. Goodrich in Rough Riders (1997)
Off. Jake Lowery in Brooklyn South (1997-1998)
Lewis Thornton Paine in The Day Lincoln Was Shot (1998)
Lt. Cmdr. Maxwell Burke in Star Trek: Voyager (1999)
FBI Special Agent Jimmy Flynn in Big Apple (2001)
The Baseball Player in Blonde (2001)
Dr. Eric Hackett in Taht's Life (2001-2002)
Zachary in Hack (2003)
Silas Adams in Deadwood (2004-2006)
Senator Bill Ross in Kidnapped (2007)
Lionel MacReady in Gone Baby Gone (2007)
Mr. Praylis in The Human Contract (2008)
War in Supernatural (2009)
Man in Black in Lost (2009-2010)
Jimmy O'Phelan in Sons of Anarchy (2009-2010)
Glenn Childs in The Good Wife (2009-2011)
John Leeson in True Blue (2010)
Dino Ciampa in The Town (2010)
Dante Marcus in Man on a Ledge (2012)
Jon Bates in Argo (2012)
Quotes
"I don't know [if I'll be in the Agents of S.H.I.E.L.D. tv series], I literally, you know, that press release was just done last week, and that was the first that I've heard of it. I would certainly be more than happy to participate in that, although I have no information, no insider information. But I would love to do it because I've thoroughly enjoyed myself on Item 47 and I think if you're gonna be part of a fictional universe, this is the one to be a part of."
Ad blocker interference detected!
Wikia is a free-to-use site that makes money from advertising. We have a modified experience for viewers using ad blockers

Wikia is not accessible if you've made further modifications. Remove the custom ad blocker rule(s) and the page will load as expected.