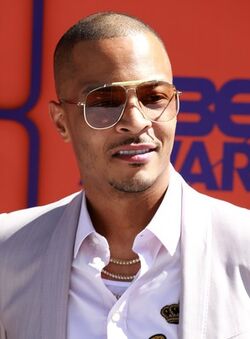 Tip "T.I." Harris portrayed Dave in Ant-Man.
Significant roles
Rashad in ATL (2005)
Stevie Lucas in American Gangsters (2007)
Ghost in Takers (2010)
Trey Rogers in Boss (2012)
Luke in Single Ladies (2012-2014)
Julian in Identity Thief (2013)
Lukas Frye in House of Lies (2014)
Quotes
""I play Ant-Man's homeboy. It's four of us and each of us is an ex-con, including Ant-Man."
"Not really; you could say so, but I'm actually more reformed in the movie than I am in real life."'
Ad blocker interference detected!
Wikia is a free-to-use site that makes money from advertising. We have a modified experience for viewers using ad blockers

Wikia is not accessible if you've made further modifications. Remove the custom ad blocker rule(s) and the page will load as expected.