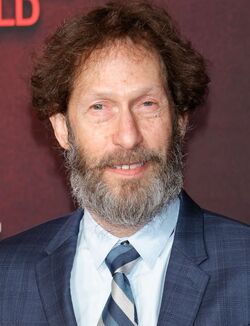 Tim Blake Nelson portrayed Samuel Sterns in The Incredible Hulk and Harvey Allen in Fantastic Four.
Significant roles
Danny Dalton in Syriana (2005)
Barney Macklehatton in The Moguls (2005)
Gideon in Minority Report (2002)
Mr. Pendanski in Holes (2000)
Delmar in O Brother, Where art Thou? (2000)
Roger Johnson in Heavy Weights (1995)
Quotes
Marvel Cinematic Universe
"Sterns is brilliant, but he is also ethically challenged."
Fantastic Four
"Yes, it's pretty much closed, with me playing Harvey Elder, who becomes the Mole Man. Without going into detail, the script has as much soul as it does action, and it has a lot of action."
"I absolutely loved working on Hulk and feel extremely blessed that Marvel, Fox, and especially Josh Trank and his team have invited me back into the universe. The script is excellent. It has real heart, and it shows a true understanding of what it is to be a burgeoning adult geeked out to the margins."
"I think it's off the schedule now,I don't think they're making one, but I'm not sure."
External Links