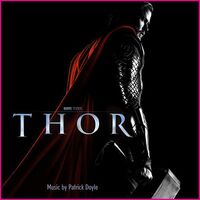 Thor is the soundtrack of the 2011 film of the same name and comprised of music composed by Patrick Doyle.
Track list
Chasing The Storm
Prologue
Sons Of Odin
A New King
Ride to Observatory
To Jotunheim
Laufey
Frost Giant Battle
Banishment
Crisis In Asgard
Odin Confesses
Hammer Found
Urgent Matter
The Compound
Loki's Lie
My Bastard Son
Science and Magic
The Destroyer
Forgive Me
Thor Kills The Destroyer
Brothers Fight
Letting Go
Can You See Jane?
Earth To Asgard
Ad blocker interference detected!
Wikia is a free-to-use site that makes money from advertising. We have a modified experience for viewers using ad blockers

Wikia is not accessible if you've made further modifications. Remove the custom ad blocker rule(s) and the page will load as expected.