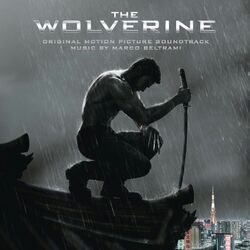 The Wolverine is the soundtrack of the film of the same name and comprised of music composed by Marco Beltrami.
Track list
A Walk in the Woods
Threnody for Nagasaki
Euthanasia
Logan's Run
The Offer
Arriving at the Temple
Funeral Fight
Two Handed
Bullet Train
The Snare
Abduction
Trusting
Ninja Quiet
Kantana Surgery
The Wolverine
The Hidden Fortress
Silver Samurai
Sword of Vengence
Dreams
Goodbye Mariko
Where to?
Whole Step Haiku
Ad blocker interference detected!
Wikia is a free-to-use site that makes money from advertising. We have a modified experience for viewers using ad blockers

Wikia is not accessible if you've made further modifications. Remove the custom ad blocker rule(s) and the page will load as expected.