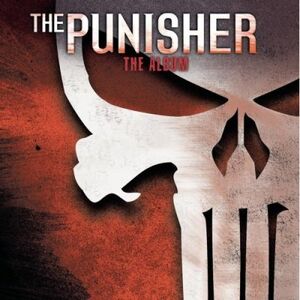 The Punisher - The Album is a collection of pop tracks released April 16, 2004 on the Wind-Up label as merchandise for The Punisher.
Track List
"Step Up" -- Drowning Pool
"Bleed" -- Puddle of Mudd
"Slow Motion" -- Nickelback
"Never Say Never" -- Queens of the Stone Age
"Broken" -- Seether feat. Amy Lee
"Finding Myself" -- Smile Empty Soul
"Lost in a Portrait" -- Trapt
"Still Running" -- Chevelle
"Ashes" -- Damageplan feat. Jerry Cantrell
"Sold Me" -- Seether
"Eyes Wired Shut" -- Edgewater
"Slow Chemical" -- Finger Eleven
"The End Has Come" -- Ben Moody feat. Jason Miller & Jason Gong Jones
"Piece by Piece" -- Strata
"Bound to Violence" -- Hatebreed
"Sick" -- Seven Wiser
"Complicated" -- Submersed
"Time for People" -- Atomship
"In Time" -- Mark Collie
Ad blocker interference detected!
Wikia is a free-to-use site that makes money from advertising. We have a modified experience for viewers using ad blockers

Wikia is not accessible if you've made further modifications. Remove the custom ad blocker rule(s) and the page will load as expected.