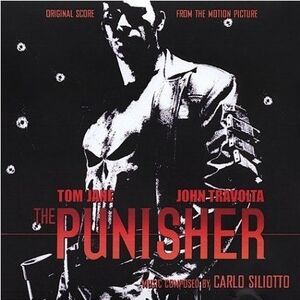 The score to The Punisher was released June 15, 2004 on La-La Land Records. The music was composed by Carlo Siliotto.
Track list
The Punisher
Otto Krieg
Unusual Resurrection
Moving
I Can't Believe I'm Home
His Whole Family
The Massacre
Death and Resurrection of Frank Castle
God's Gonna Sit This One Out
Ice Lolly and Meat
You're Gonna Help Me
Entering the Fort
About Your Family/Setting a Trap
A Bomb for John Saint
Good Memories Can Save Your Life
The Thugs
The Torture
Elevator and Headache
A New Family/Joan's Suffering
Quentin Glass' Home
Killing a Best Friend
You Don't Undrestand... End of the Dark Lady
She Took the Train/Punishment
The Arrow
Both of Them
The Skull
Castle's Loneliness
Call Me "The Punisher"
Jealous One performed by J. C. Loader
La Donna E' Mobile from "Rigoletto" performed by Peter Dvorsky
Ad blocker interference detected!
Wikia is a free-to-use site that makes money from advertising. We have a modified experience for viewers using ad blockers

Wikia is not accessible if you've made further modifications. Remove the custom ad blocker rule(s) and the page will load as expected.