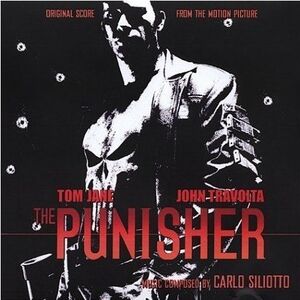 The Punisher is the soundtrack to the 2004 film of the same name composed by Carlo Siliotto released June 15, 2004 by La-La Land Records.
Track list
The Punisher
Otto Krieg
Unusual Resurrection
Moving
I Can't Believe I'm Home
His Whole Family
The Massacre
Death and Resurrection of Frank Castle
God's Gonna Sit This One Out
Ice Lolly and Meat
You're Gonna Help Me
Entering the Fort
About Your Family/Setting a Trap
A Bomb for John Saint
Good Memories Can Save Your Life
The Thugs
The Torture
Elevator and Headache
A New Family/Joan's Suffering
Quentin Glass' Home
Killing a Best Friend
You Don't Undrestand... End of the Dark Lady
She Took the Train/Punishment
The Arrow
Both of Them
The Skull
Castle's Loneliness
Call Me "The Punisher"
Jealous One performed by J. C. Loader
La Donna E' Mobile from "Rigoletto" performed by Peter Dvorsky
The Punisher: The Album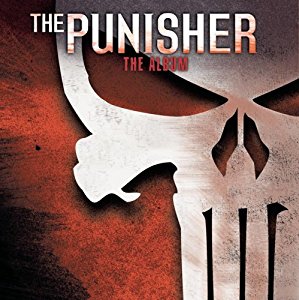 Wind-up released The Punisher: The Album on March 23, 2004.
Track list
"Step Up" by Drowning Pool
"Bleed" by Puddle of Mudd
"Slow Motion" by Nickelback
"Never Say Never" by Queens of the Stone Age
"Broken" by Seether featuring Amy Lee
"Finding Myself" by Smile Empty Soul
"Lost in a Portrait" by Trapt
"Still Running" y Chevelle
"Ashes to Ashes" by Damageplan featuring Jerry Cantrell
"Sold Me" by Seether
"Eyes Wired Shut" by Edgewater
"Slow Chemical" by Finger Eleven
"The End Has Come" by Ben Moody featuring Jason Miller and Jason "Gong" Jones
"Piece by Piece" by Strata
"Bound to Violence" by Hatebreed
"Sick" by Seven Wiser
"Complicated" by Submersed
"Time for People" by Atomship
"In Time" byMark Collie
Ad blocker interference detected!
Wikia is a free-to-use site that makes money from advertising. We have a modified experience for viewers using ad blockers

Wikia is not accessible if you've made further modifications. Remove the custom ad blocker rule(s) and the page will load as expected.