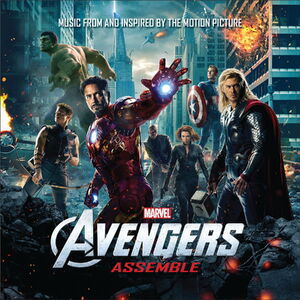 Avengers Assemble is the soundtrack of The Avengers. It shares the same title with the British and Irish releases of the film.
Track list
Live to Rise Performed by Soundgarden
I'm Alive Performed by Shinedown
Dirt and Roses Performed by Rise Against
Even If I Could Performed by Papa Roach
Unbroken Performed by Black Veil Brides
Breath Performed by Scott Weiland
Comeback Performed by Redlight King
Into the Blue Performed by Bush
A New Way to Bleed (Photek Remix) Performed by Evanescence
Count Me Out Performed by PUSHERJONES
Shoot to Thrill Performed by Theory of a Deadman
Wherever I Go Performed by Buckcherry
From Out of Nowhere Performed by Five Finger Death Punch
Shake the Ground Performed by Cherri Bomb
Pistols At Dawn Performed by Kasabian (Additional track on the international release)
Ad blocker interference detected!
Wikia is a free-to-use site that makes money from advertising. We have a modified experience for viewers using ad blockers

Wikia is not accessible if you've made further modifications. Remove the custom ad blocker rule(s) and the page will load as expected.