The Avengers (team)
Comments

3
3,110pages on
this wiki
"And there came a day, a day unlike any other... when Earth's mightiest heroes found themselves united against a common threat... to fight the foes no single superhero could withstand... on that day, the Avengers were born."
The Avengers are a team of superheroes assembled by Nick Fury and the intelligence agency S.H.I.E.L.D. through the Avenger Initiative. They exist in the Marvel Cinematic Universe and feature all the heroes of Marvel Studios' independent productions. They first appeared as a team in 2012's The Avengers. The Avengers were formed to combat threats that could not be dealt with alone.
The team currently consists of Iron Man, Captain America, the Hulk, Thor, Black Widow and Hawkeye. They were intitially brought together by S.H.I.E.L.D. to combat Loki, Thor's adoptive brother. The Avengers are based on the superhero team created by Stan Lee and Steve Ditko and feature a similar roster to Mark Millar's Ultimates, the Ultimate Marvel Universe version of the team. The team was initially formed by Nick Fury to "fight the battles that S.H.I.E.L.D. never could."
Biography
"You think you're the only superhero in the world? Mr. Stark, you've become part of a bigger universe. You just don't know it yet."
In a post-credits scene, Tony Stark is unexpectedly visited by S.H.I.E.L.D. Director Nick Fury who notes that Stark is not "the only superhero in the world" and states he wants to discuss the "Avenger Initiative".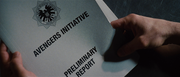 "I told you I don't want to join your super-secret boy band."
Fury informs Stark that his Iron Man persona is assigned to the team, but due to certain conditions, Stark himself is deemed unsuitable. Stark agrees on the condition that Senator Stern present him and Col. Rhodes with their medals for bravery.
"So, on the Council's orders, we have to send one of our people down to Ross to ask for Blonksy, who we don't even want?"
―Jasper Sitwell
Agents Coulson and Sitwell conspire to thwart the Security Council's directive that Emil Blonsky be added to the Avengers roster.
"What if I told you we were putting a team together?"
General Ross is drinking in a bar when he is approached by industrialist Stark, who casually reveals that a "team" is being put together.
"Know this, son of Coul. You and I, we fight for the same cause: the protection of this world. From this day forward, you can count me in as your ally, if... you return the items you have taken from Jane."
Agent Coulson notes Thor's strength while he is in his mortal form, trying to reclaim Mjolnir. After Thor defeats the Destroyer, Thor tells Coulson to consider him an ally to S.H.I.E.L.D., but speeds away before he can be debriefed, indicating that he has been considered for the Avengers Initiative.
"You came here with a mission, sir, trying to get me back to the world?
Trying to save it."
―Steve Rogers and Nick Fury
Steve Rogers was woken after 70 years on ice and later meets Nick Fury, who recruits him to the Avengers intiative.
"There was an idea, Stark knows this. Called the Avengers Initiative. The idea was to bring together a group of remarkable people, see if they become something more. See if they can work together when we needed them to. To fight the battles that we never could."
Nick Fury assembles the team when an unexpected threat associated with Thor's brother Loki and the Tesseract appears. The team initially have difficulty and refusal to obey each other; for example, Tony Stark is reluctant to working under the command of Captain America, Thor demands that Loki is his responsibility and the team is uncomfortable with the presence of Bruce Banner. When Loki attempts to destroy the team and promote his godlike supremecy to Earth in a public way, the Avengers depart from S.H.I.E.L.D.'s command and rally in defense of New York as it is invaded by the extraterrestrials known as the Chitauri. Captain America takes command of the team and they each work to supress the invasion force. The Hulk beats Loki into submission and Iron Man sends a nuclear weapon fired by the World Security Council into the portal through which the aliens enter Earth and their fleet is destroyed, breaking the neural connection with their ground troops and instantly killing them. The team take Loki as their prisoner and Thor takes both Loki and the Tesseract back to Asgard. The team disbands but agrees to reassemble when another global threat requires their combined efforts.
The team was mentioned by Harold Hogan as the "Super Friends" and were mentioned once more by Harley Keener.
The team was mentioned, by Loki. Loki masquerades as Captain America during the film.
To be added
To be added
Members
Allies
Enemies
Behind the scenes
Trivia
Gallery