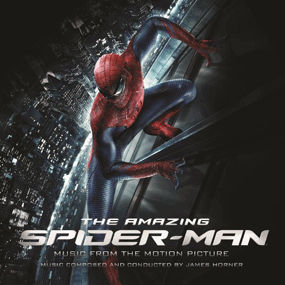 The Amazing Spider-Man is the soundtrack of the 2012 film of the same name and comprised of music composed by James Horner.
Track list
"Main Title - Young Peter"
"Becoming Spider-Man"
"Playing Basketball"
"Hunting for Information"
"The Briefcase"
"The Spider Room - Rumble in the Subway"
"Secrets"
"The Equation"
"The Ganali Device"
"Ben's Death"
"Metamorphosis"
"Rooftop Kiss"
"The Bridge"
"Peter's Suspicions"
"Making a Silk Trap"
"Lizard at School!"
"Saving New York"
"Oscorp Tower"
"I Can't See You Anymore"
"Promises - End Titles"
Ad blocker interference detected!
Wikia is a free-to-use site that makes money from advertising. We have a modified experience for viewers using ad blockers

Wikia is not accessible if you've made further modifications. Remove the custom ad blocker rule(s) and the page will load as expected.