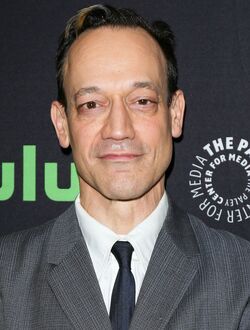 Ted Raimi portrayed Ted Hoffman in Spider-Man, Spider-Man 2, and Spider-Man 3. Ted is the brother of director Sam Raimi.
Significant roles
Fake Shemp in Evil Dead (1981)
Possessed Henrietta in Evil Dead 2 (1987)
Produce Joe in Intruder (1989)
Pac Man in Shocker (1989)
Rick in Darkman (1990)
Billy in Candyman (1992)
Dennis Skinner in Skinner (1993)
Lt. j. g. Timothy O'Neil in SeaQuest (1993-1996)
Joxer in Xena: Warrior Princess (1996-2001)
Joxer in Hercules: The Legendary Journeys (1997-1998)
Alex in The Grudge (2004)
Pavel in Man with the Screaming Brain (2005)
Mills Toddner in My Name Is Bruce (2007)
Sebastian in Legend of the Seeker (2008-2010)
Quotes
Please add some quotes from this performer about their work in Marvel movies!
Ad blocker interference detected!
Wikia is a free-to-use site that makes money from advertising. We have a modified experience for viewers using ad blockers

Wikia is not accessible if you've made further modifications. Remove the custom ad blocker rule(s) and the page will load as expected.