Ad blocker interference detected!
Wikia is a free-to-use site that makes money from advertising. We have a modified experience for viewers using ad blockers

Wikia is not accessible if you've made further modifications. Remove the custom ad blocker rule(s) and the page will load as expected.
Team Leader
Is Captain America or Iron Man going to be the team leader of The Avengers? --Lg16spears 03:59, 24 June 2009 (UTC)
Based on the comics, since Captain America joined later, I believe Iron Man was the leader at first. Due to his economic power I imagine it will be this way, at least until Cap joins to replace Hulk on the team later. Unless the movies have them both be members at once... +y 18:31, December 9, 2011 (UTC)
Sequel(s)
Is there any information about the Avengers being a series and having sequels to this film? Or is it indicated to be a one-shot? I haven't located any information pertaining to this.
If there has been a sequel alluded to, has the introduction of Hank Pym and Wasp been discussed? Perhaps Ultron and Vision? Scarlet Witch and Quicksilver? Heck, may as well throw out Wolverine and Spidey. +y 18:31, December 9, 2011 (UTC)
Hulk Actor Change
This movie is going to be awesome. The only thing I don't like is that they changed the Hulk actor from Edward Norton to Mark Ruffalo. Milomilk 00:03, December 21, 2011 (UTC)
The Badoon?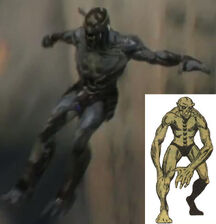 In the extended Super Bowl trailer, we get a decent view of Loki's army who greatly resemble the Badoon race. Is it possible that Loki has gathered the Badoon as his army to conquer Earth?
BlindmelonKen 22:26, February 6, 2012 (UTC)BlindmelonKen
Official press release for The Avengers Mini-Mate figures reveal the aliens are officially named "The Redacted". Page?
BlindmelonKen 00:23, February 26, 2012 (UTC)BlindmelonKen
Are you sure that's not a joke? "Redacted" means "censored or classified for secrecy."
RobinHood3000 20:11, March 30, 2012 (UTC)
I already cleared that up on Talk:Loki's Army. - Doomlurker 20:54, March 30, 2012 (UTC)
the avengers video game?
are they going to be a video game for this movie? Teddybearlover 22:36, February 17, 2012 (UTC)
Release?
Did this movive already come out or what? I have been seeing reivews and they're positive. Thanks God. Regular Guy 13:39, April 28, 2012 (UTC)
Depends where in the world you are. - Doomlurker 13:56, April 28, 2012 (UTC)