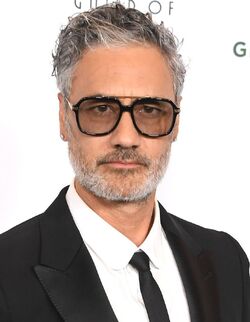 Taika Waititi is the director of Thor: Ragnarok. Waititi also portrayed Korg and Surtur in the film.
Quotes
"Ohhh I don't know. I am not sure if... I don't know actually. I can't comment on it. It may have just been something for the fans."
"Might be something like that. Might be a little tease. Or maybe a tease just for people who wanted to zoom into that photo."
Ad blocker interference detected!
Wikia is a free-to-use site that makes money from advertising. We have a modified experience for viewers using ad blockers

Wikia is not accessible if you've made further modifications. Remove the custom ad blocker rule(s) and the page will load as expected.