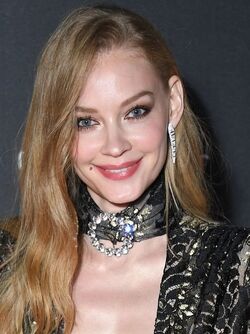 Svetlana Khodchenkova portrayed Viper in The Wolverine.
Significant roles
Vera in Blagoslovite zhennschinu (2003)
Nadezhda Drozdova in Ne khlebom edinym (2005)
Lena in Poslednyaya reproduktsiya (2008)
Nastya in Lyubov v bolshom gorode (2009)
Nastya in Lyubov v bolshom gorode 2 (2010)
Irina in Tinker, Tailor, Soldier, Spy (2011)
Natasha Rostova in Rhzevskiy protiv Napoleona (2012)
Maria Gardini in Elide (2013)
Eva Stalkovich in Suspended Chronicles (2013)
Quotes
"Viper doesn't really have many people that she cares about, most of them she just uses for her own purpose."
"Of course being from Russia, I respect all of the comic books American people love. We do follow it a lot. It's going to still have a little bit of my own flavor to it, but I will do the best I possibly can to match it as closely to the character from the comic books."
"It's fantastic to work all the cast and crew here, and Hugh Jackman's amazing. He's a really kind person, and he always cares about everyone. He'll come up and ask if you've had a good sleep, are you wearing sunblock. He's very nice. It's very great to work with him and everyone else."
"All I can say about the costume now is that every costume is really different, and also being a woman I absolutely love it, all the different changes. It helps my character, because it progresses with the character throughout the film, her costumes and looks. It's always changing. The most important costume for the Viper-look, the superhero look, is still in progress. We've made different versions of it and we're still working on it. It's surprising too, because we're still working on it."
"With my character, certainly she's a villain, but for me to play the character I have to love the character. I have to realize why she's doing what she's doing, and obviously she has reasons for everything she does. I'm working a lot on that. I love the character."