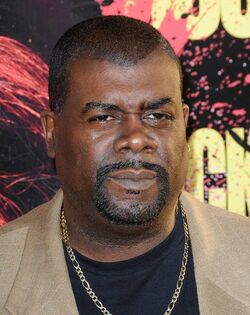 Stu "Large" Riley portrayed Huge Goon in Kick-Ass.
Significant roles
Tiley in Swift Justice (1996)
Beast in Woo (1998)
Richard in For Love of the Game (1999)
Johnny Schmidt in Law & Order: Special Victims Unit (2000)
Leon in Shaft (2000)
Ed in The O.C. (2004)
The Voice in Brutus Black (2012)
Quotes
Please add some quotes from this perfomer about his work with Marvel movies!
Ad blocker interference detected!
Wikia is a free-to-use site that makes money from advertising. We have a modified experience for viewers using ad blockers

Wikia is not accessible if you've made further modifications. Remove the custom ad blocker rule(s) and the page will load as expected.