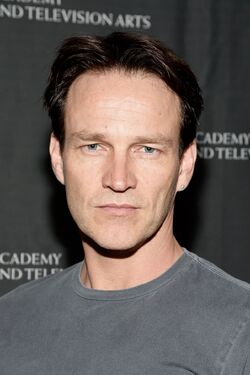 Stephen Moyer portrayed Reed Strucker in the FOX TV series The Gifted.
Significant roles
Philip Masefield in Conjugal Rites (1993–1994)
Stephen Bannerman in The Grand (1997)
Prince Valiant in Prince Valiant (1997)
Prouix, the Architect in Quills (2000)
Brach in Trinity (2001)
Prince Phillip in Princess of Thieves (2001)
Michael Antonioni in NY-LON (2004)
Mick Benson in Undiscovered (2005)
Mr. Brazendale in Lilies (2007)
Sam in The Starter Wife (2007)
Guy LaForge in 88 Minutes (2007)
Andrew in Restraint (2008)
Bill Compton in True Blood (2008-2014)
Josh in Open House (2010)
Owen Pace in Priest (2011)
John Guidi in The Caller (2011)
Brutus in The Double (2011)
Richard Vineyard in The Barrens (2012)
Detective Reese in Evidence (2013)
John Fogelman in Devil's Knot (2013)
Milus Corbett in The Bastard Executioner (2015)
Dr. Ron Hamilton in Concussion (2015)
Vincent in Detour (2016)
Officer Breeland in Shots Fire (2017)
Quotes
Please add a list of quote from this performer about their work in Marvel Movies!
Trivia
Stephen is married to X-Men film series actress Anna Paquin.
Ad blocker interference detected!
Wikia is a free-to-use site that makes money from advertising. We have a modified experience for viewers using ad blockers

Wikia is not accessible if you've made further modifications. Remove the custom ad blocker rule(s) and the page will load as expected.