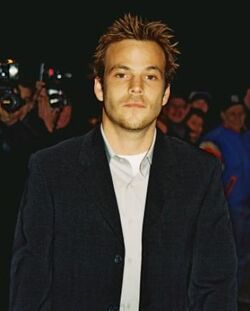 Stephen Dorff portrayed Deacon Frost in Blade.
Significant roles
Johnny Bennett in Hiroshima Maiden (1988)
Charles O'Kelley in A Son's Promise (1990)
P. K. Age 18 in The Power of One (1992)
John Wyatt in Judgment Night (1993)
Stuart Sutcliffe in Backbeat (1994)
Candy Darling in I Shot Andy Warhol (1996)
Cecil in Cecil B. Demented (2000)
Leon in Deuces Wild (2002)
Det. Mike Reilly in FeardotCom (2002)
Dale Massie in Cold Creek Manor (2003)
Cmdr. Richard Burke in Alone in the Dark (2005)
Scott Strauss in World Trade Center (2006)
Wade Porter in Felon (2008)
Homer Van Meter in Public Enemies (2009)
Johnny Marco in Somewhere (2010)
Stavros in Immortals (2011)
Quotes
"It will be a prequel to the Blade movies, Deacon's story. It's a new trilogy the director has created. It will be cool."
"We hope to shoot the first film next year. Frost is a character I have never been able to shake."
"Me and Steve Norrington had a cool treatment for that, and when vampires got all this trending again, we thought we should do the adult version, more of like a Scarface Deacon Frost movie... Blade was such a '90s thing. I didn't want to do a Blade movie, I just really wanted to take Deacon and do then do a whole other thing which was much more today."
Ad blocker interference detected!
Wikia is a free-to-use site that makes money from advertising. We have a modified experience for viewers using ad blockers

Wikia is not accessible if you've made further modifications. Remove the custom ad blocker rule(s) and the page will load as expected.