Ad blocker interference detected!
Wikia is a free-to-use site that makes money from advertising. We have a modified experience for viewers using ad blockers

Wikia is not accessible if you've made further modifications. Remove the custom ad blocker rule(s) and the page will load as expected.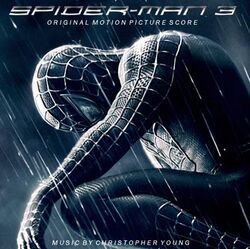 The score to Spider-Man 3 was released May 1, 2007 on Record Collection. The music was by bands called: Snow Patrol, The Killers, Yeah Yeah Yeahs, Wolfmother, The Walkmen, Black Mountain, The Flaming Lips, Simon Dawes, Chubby Checker, Rogue Wave, Coconut Records, Jet, The Wasted Youth Orchestra, Sounds Under Radio, and The Oohlas.
Track list
"Signal Fire" by Snow Patrol (4:26)
"Move Away" by The Killers (3:52)
"Sealings" by Yeah Yeah Yeahs (4:32)
"Pleased to Meet You" by Wolfmother (4:44)
"Red River" by The Walkmen (2:53)
"Stay Free" by Black Mountain (4:28)
"The Supreme Being Teaches Spider-Man How to Be in Love" by The Flaming Lips (3:25)
"Scared of Myself" by Simon Dawes (4:54)
"The Twist" by Chubby Checker (2:35)
"Sight Lines" by Rogue Wave (3:39)
"Summer Day" by Coconut Records (2:05)
"Falling Star" by Jet (3:35)
"A Letter from St. Jude" by The Wasted Youth Orchestra (4:12)
"Portrait of a Summer Thief" by Sounds Under Radio (4:15)
"Small Parts" by The Oohlas (3:39)