Ad blocker interference detected!
Wikia is a free-to-use site that makes money from advertising. We have a modified experience for viewers using ad blockers

Wikia is not accessible if you've made further modifications. Remove the custom ad blocker rule(s) and the page will load as expected.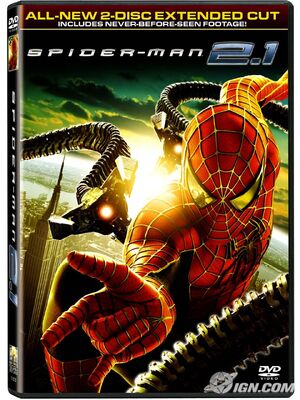 Spider-Man 2.1 is an 2007 extended edition of 2004's Spider-Man 2. It features eight minutes of additional footage and new special features. The DVD was released on April 17, and included a sneak peak at Spider-Man 3.
Extended/ new scenes
Extended:
Pizza delivery
Peter's birthday
Peter and Mary Jane talk outside
Peter meets Rosie
Car chase
Usher scene
Hospital scene
First fight
Doctor scene
Second fight
New scenes:
Elevator scene is completely different 
Studies
Mary Jane goes shopping with friends
Jameson dresses up as Spider-man
Gallery