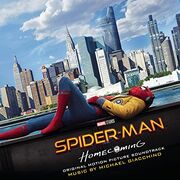 Spider-Man: Homecoming is the soundtrack of the film of the same name and comprised of music composed by Michael Giacchino.
Track list
Spider-Man Television Theme
The World is Changing
Academic Decommitment
High Tech Heist
On a Ned-To-Know Basis
Drag Racing / An Old Van Rundown
Webbed Surveillance
No Vault of His Own
Monumental Meltdown
The Baby Monitor Protocol
A Boatload of Trouble Part 1
A Boatload of Trouble Part 2
Ferry Dust Up
Stark Raving Mad
Pop Vulture
Bussed a Move
Lift Off
Fly-By-Night Operation
Vulture Clash
A Stark Contrast
No Frills Proto COOL!
Spider-Man: Homecoming Suite
Ad blocker interference detected!
Wikia is a free-to-use site that makes money from advertising. We have a modified experience for viewers using ad blockers

Wikia is not accessible if you've made further modifications. Remove the custom ad blocker rule(s) and the page will load as expected.