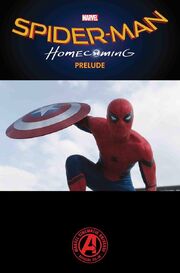 Spider-Man: Homecoming Prelude is a 2-issue comic mini-series set in the Marvel Cinematic Universe. It is set before the events of Spider-Man: Homecoming.
Plot
YOUR FRIENDLY NEIGHBORHOOD SPIDER-MAN SWINGS INTO THE MCU! PETER PARKER is just your average, nerdy, tech-loving teenager… until an unexpected turn of events lands him with the power to cling to walls and the proportionate strength of a spider! SPIDER-MAN's foray into the Marvel Cinematic Universe begins here, with part one of an adaptation of the blockbuster Marvel's Captain America: Civil War, which sees a rift between CAPTAIN AMERICA and IRON MAN rend a schism between the Avengers… with Spider-Man in the middle of it all!
Characters
Organizations
Ad blocker interference detected!
Wikia is a free-to-use site that makes money from advertising. We have a modified experience for viewers using ad blockers

Wikia is not accessible if you've made further modifications. Remove the custom ad blocker rule(s) and the page will load as expected.