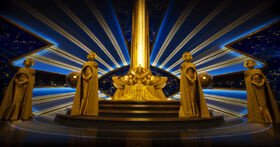 The Sovereign are the inhabitants of the planet of the same name. 
History
To be added
Powers and Abilities
To be added
Technology
Golden Drones: The Sovereign pilot their drones remotely to save them losing any lives.
Physiology 
The Sovereign resemble humans except their skin, irises and hair are golden.
Culture
To be added
Notable Sovereign
Enemies
Ad blocker interference detected!
Wikia is a free-to-use site that makes money from advertising. We have a modified experience for viewers using ad blockers

Wikia is not accessible if you've made further modifications. Remove the custom ad blocker rule(s) and the page will load as expected.