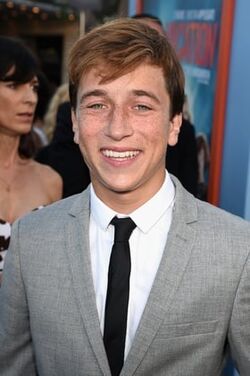 Skyler Gisondo portrayed Howard Stacy in The Amazing Spider-Man and The Amazing Spider-Man 2.
Significant roles
Timmy Jankowski in E.R. (2006)
B-Dawg in Air Buddies (2006)
Tommy Doyle in Halloween (2007)
Bryan Pearson in The Bill Engvall Show (2007-2009)
B-Dawg in Snow Buddies (2008)
Connor in Four Christmases (2008)
B-Dawg in Space Buddies (2009)
B-Dawg in Santa Buddies (2009)
Gene Friesen in Eastwick (2009-2010)
Young Shawn in Psych (2010-2012)
B-Dawg in Spooky Buddies (2011)
B-Dawg in Treasure Buddies (2011)
Young Moe in The Three Stooges (2012)
Quotes
Please add some quotes from this perfomer about his work with Marvel movies!
Ad blocker interference detected!
Wikia is a free-to-use site that makes money from advertising. We have a modified experience for viewers using ad blockers

Wikia is not accessible if you've made further modifications. Remove the custom ad blocker rule(s) and the page will load as expected.