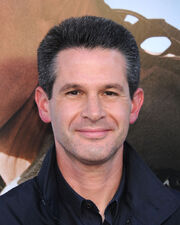 Simon Kinberg is the co-writer of X-Men: The Last Stand and X-Men: Days of Future Past, co-producer of X-Men: First Class and Logan, co-writer & co-producer of Fantastic Four, Deadpool and X-Men: Apocalypse and he will co-write and produce the upcoming films New Mutants, Deadpool 2, Gambit and Multiple Man and write and direct the upcoming X-Men: Dark Phoenix and the executive producer of Legion and The Gifted.
Quotes
"I think Deadpool 2 will comment on anything that's happening in movies today especially in superhero movies. The sort of glut or saturation of these movies and the proliferation of sequels is definitely something we'll play around with."
Ad blocker interference detected!
Wikia is a free-to-use site that makes money from advertising. We have a modified experience for viewers using ad blockers

Wikia is not accessible if you've made further modifications. Remove the custom ad blocker rule(s) and the page will load as expected.