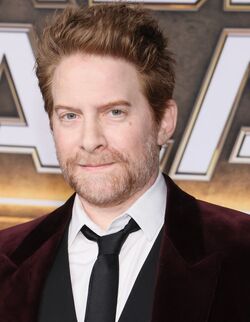 Seth Green voiced Howard the Duck in Guardians of the Galaxy and Guardians of the Galaxy Vol. 2.                                                 
Significant roles
"Egg" Berry in Hotel New Hampshire (1984)
Benjamin "Ape-Face" Andrews in (1984)
Malcolm in Willy/Milly (1986)
Chuckie Miller in Can't Buy Me Love (1987)
Adam Brinkeroff in The Facts of Life (1988)
Fred Glass in My Stepmother Is an Alien (1988)
Louis in Mr. Belvedere (1989)
Richie Tozier in It (1990)
William Butler in Life Goes On (1990)
David in Good & Evil (1991)
Jimmy Donnelly in Good & Evil (1992)
Wizard in Batman: The Animated Series (1992)
Wayne in Beverly Hills, 90210 (1993)
Stilts in Arcade (1993)
Wiley in Airborne (1993)
Harry Byrd in The Byrds of Paradise (1994)
Napoleon in Something So Right (1996)
David Silver in Temporarily Yours (1997)
Scott Evil in Austin Powers: International Man of Mystery (1997)
Daniel "Oz" Osbourne in Buffy the Vampire-Slayer (1997-2000)
Kenny Fisher in Can't Hardly Wait (1998)
Selby in Enemy of the State (1998)
Nelson Nash in Batman Beyond: The Movie (1999)
Mick in Idle Hands (1999)
Scott Evil in Austin Powers: The Spy Who Shagged Me (1999)
Daniel "Oz" Osbourne in Angel (1999)
Eddie McDowd in 100 Deeds for Eddie McDowd (1999-2000)
Nelson Nash in Batman Beyond (1999-2001)
Chris Griffin in Family Guy (1999-2014)
Brightling in MADtv (2000-2005)
Travis - Du Jour in Josie and the Pussycats (2001)
Danny Wax in America's Sweethearts (2001)
Duane Cody in Rat Race (2001)
Johnny Marbles in Knockaround Guys (2001)
Scott Evil in Austin Powers in Goldmember (2002)
Jimmy Bender in Greg the Bunny (2002)
James St. James in Party Monster (2003)
Lyle in The Italian Job (2003)
Mitch Miller in That 70s Show (2003-2004)
Patrick in Scooby Doo 2: Monsters Unleashed (2004)
Dan Mott in Without a Paddle (2004)
Chris Griffin in Family Guy Presents Stewie Griffin: The Untold Story (2005)
Murrays in The Best Man (2005)
Barry in Four Kings (2006)
Nick Hanscom in Grey's Anatomy (2007)
Ezekiel in Sex Drive (2008)
Sam in Heroes (2008)
Lt. Gibbs in Titan Maximum (2009)
Craig in Daddy Sitter (2009)
Chris Griffin in The Cleveland Show (2009-2010)
Todo 360 in Star Wars: The Clone Wars (2009-2010)
Chris Griffin as Luke Skywalker in Family Guy Presents: It's a Trap (2010)
Milo in Mars Needs Moms (2011)
Side Car in Issues (2011)
Soros in Light Masters (2011)
DJ Death in Save the Supers (2012)
Leonardo in Teenage Mutant Ninja Turtles (2012)
Daryl LaCorte in How I Met Your Mother (2012)
Lucifer in Cyber Attacks (2012-2013)
Monty Monogram in Phineas and Ferb (2012-2014)
Zachary Newman in Sexy Evil Genius (2013)
Rick Jones/A-Bomb in Hulk and the Agents of S.M.A.S.H. (2013-2014)
Eli Sachs in Dads (2013-2014)
Rocket Raccoon in Marvel's Avengers Assemble (2014)
Quotes
Please add a list of quote from this performer about their work in Marvel Movies!