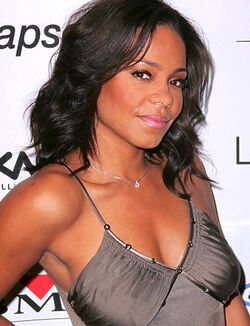 Sanaa Lathan portrayed Vanessa Brooks in Blade.
Significant roles
Briana Gilliam in LateLine (1998-1999)
Monica Wright in Love & Basketball (2000)
Zora Banks in Disappearing Acts (2000)
Ann Merai Harrison in Out of Time (2003)
Alexa Woods in AVP: Alien Vs Predator (2004)
Kenya Denise McQueen in Something New (2006)
Michelle Landau in Nip/Tuck (2006)
Beneatha Younger in A Raisin in the Sun (2008)
Andrea in The Family That Preys (2008)
Diana in Powder Blue (2009)
Donna Tubbs in The Cleveland Show (2009-2010)
Donna Tubbs in Family Guy (2010)
Quotes
Please add some quotes from this performer about their work in Marvel movies!
Ad blocker interference detected!
Wikia is a free-to-use site that makes money from advertising. We have a modified experience for viewers using ad blockers

Wikia is not accessible if you've made further modifications. Remove the custom ad blocker rule(s) and the page will load as expected.