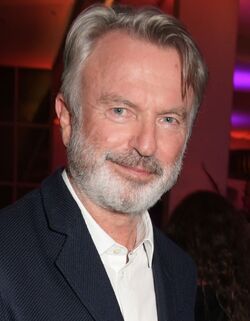 Sam Neill portrayed Odin actor in Thor: Ragnarok.
Significant roles
Harry Beecham in My Brilliant Career (1979)
Damien Thorn in The Final Conflict (1981)
Mark in Possession (1981)
Brian de Bois-Guilbert in Ivanhoe (1982)
Sidney Reilly in Reilly: Ace of Spies (1983)
Capt. Starlight in Robbery Under Arms (1985)
William Lowell Kane in Kane & Abel (1985)
Colonel Andrei Denisov in Amerika (1987)
Michael in Evil Angels (1988)
John Ingram in Dead Calm (1989)
Marie-Joseph-Paul-Yves-Roch-Gilbert Motier, marquis De La Fayette in La révolution française (1989)
Captain Borodin in Hunt for Red October (1990)
David Jenkins in Memoirs of an Invisible Man (1992)
Stewart in The Piano (1993)
Alan Galbraith in The Rainbow Warrior (1993)
Alan Grant in Jurassic Park (1993)
John Trent in In the Mouth of Madness (1994)
Brydon in The Jungle Book (1994)
King Charles II in Restoration (1995)
Agent Alvin Dewey in In Cold Blood (1996)
Mr. Jones in Victory (1996)
Dr. William Weir in Event Horizon (1997)
Merlin in Merlin (1998)
Robert MacLean in The Horse Whisperer (1998)
Sir Richard Martin Bicentennial Man (1999)
Thomas Jefferson in Sally Hennings: An American Scandal (2000)
Cliff Buxton in The Dish (2000)
Sam Sawnoff in The Magic Pudding (2000)
Lr. Cmdr. Charles B. Momsen in Submerged (2001)
Alan Grant in Jurassic Park III (2001)
Victor Komarovsky in Zivago (2002)
Richard Runche in Jessica (2004)
Dennis Bradbury in Wimbledon (2004)
Governor Arthur Phillip in Mary Bryant (2005)
Mr. Prettiman in To the Ends of the Earth (2005)
The Jockey in Little Fish (2005)
Eric Benerall in The Triangle (2005)
Merlin in Merlin's Apprentice (2006)
Cardinal Thomas Wolsey in The Tudors (2007)
Dean Spanley in Dean Spanley (2008)
Abraham Ling in Skin (2008)
Jeremiah Blackthorne in Crusoe (2008-2010)
Mr. Jones in Under the Mountain (2009)
Alfred Nichol in Iron Road (2009)
Charles Bromley in Daybreakers (2009)
Merritt Grieves in Happy Town (2010)
Dr. Bruce Chandler in Rake (2010)
Anthony Kavanagh in Ice (2011)
Jack in The Hunter (2011)
Bill Thornton in The Vow (2012)
Emerson Hauser in Alcatraz (2012)
Governer Michael Thomas Rey in The Ordained (2013)
DSS Jim Stockton in Harry (2013)
Dr. Kyrie in Escape Plan (2013)
Otto Luger in The Adventurer: The Curse of the Midas Box (2013)
Chester Campbell in Peaky Blinders (2013-2014)
Joao Havelange in United Passions (2014)
Ted McCabe in Old School (2014)
Lang Hancock in House of Hancock (2015)
General John McArthur in And Then There Were None (2015)
Quotes
"Oddly enough, I'm not really allowed to say this, and I can't tell you what it is… I did a couple of days on Thor, just before I came over here. I had to sign all sorts of things that say if I say anything else, Marvel's secret agents -and they are lethal, will come and get me, and probably my children as well."