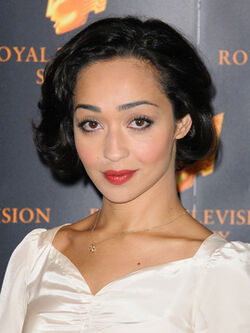 Ruth Negga portrayed Raina in the TV series Agents of S.H.I.E.L.D..
Significant roles
Lisa Sheering in Love Is the Drug (2004)
Charlie in Breakfast on Pluto (2005)
Mary in Isolation (2005)
Melanie Loyd in Criminal Justice (2008)
Doris Siddiqi in Personal Affairs (2009)
Ophelia in National Theatre Live (2009-2010)
Nikki in Misfits (2010)
Leah in The Nativity (2010)
Rosie in Love/Hate (2010-2011)
Shirley Bassey in Shirley (2011)
Agnes Evans in Secret State (2012)
Celeste in 12 Years a Slave (2013)
Quotes
Please add some quotes from this performer about their work in Marvel Movies!
Trivia
Ad blocker interference detected!
Wikia is a free-to-use site that makes money from advertising. We have a modified experience for viewers using ad blockers

Wikia is not accessible if you've made further modifications. Remove the custom ad blocker rule(s) and the page will load as expected.