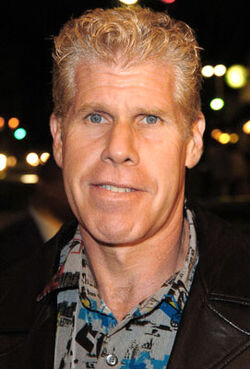 Ron Perlman portrayed Reinhardt in Blade II, and the Shop Owner in Dirty Laundry.
Significant roles
Amoukar in La guerre du feu (1981)
Zeno in The Ice Pirates (1984)
Salvatore in Der Name der Rose (1986)
Vincent in Beauty and the Beast (1987-1990)
Captain Soames in Sleepwalkers (1992)
Clayface in Batman: The Animated Series (1992-1993)
Pap Finn in The Adventures of Huck Finn (1993)
Dr. Douglas Eben in When the Bough Breaks (1994)
One in La cité des enfants perdus (1995)
Norman Arbuthnot in The Last Supper (1995)
Bruce Banner/The Hulk in Fantastic Four (1995)
The Wizard in Fantastic Four (1995)
Bruce Banner/The Hulk in Iron Man (1996)
Kurtis Stryker in Mortal Kombat: Defenders of the Realm (1996)
Donnie Shank in Bettie (1997)
Alan Manieski in The Second Civil War (1997)
Boltar in Prince Valiant (1997)
Cliff in Tinseltown (1997)
Johner in Alien: Resurrection (1997)
Clayface in The New Batman Adventures (1997-1998)
Jax-Ur in Superman: The Animated Series(1997-1999)
Gascone in Frogs for Snakes (1998)
Josiah Sanchez in The Magnificent Seven (1998-2000)
Marshal Nalhober in Happy, Texas (1999)
The Director in Supreme Sanction (1999)
Frank Brodie in Primal Force (1999)
Prof. Sam Tucker in Titan A. E. (2000)
Lord Morton in The King's Guard (2000)
Koulikov in Enemy at the Gates (2001)
Mitchell in Down (2001)
Reman Viceroy Vkruk in Star Trek: Nemesis (2002)
Murchison in Absolon (2003)
Slade in Teen Titans (2003-2006)
Clayface in Justice League (2003-2006)
Orion in Justice League (2003-2006)
Anung un Rama/Hellboy in Hellboy (2004)
Vice Principal Lancer in Danny Phantom (2004-2006)
Kago in Tarzan II (2005)
Bane and Killer Croc in The Batman (2005-2008)
Curtis Sunday in Local Color (2006)
Vito in How to Go Out on a Date in Queens (2006)
Ed Pollack in The Last Winter(2006)
Anung un Rama/Hellboy in Hellboy Animated: The Sword of Storms (2006)
Norick in In the Name of the King (2007)
Justice in Afro Samurai (2007)
Anung un Rama/Hellboy in Hellboy Animated: Blood and Iron (2007)
Anung un Rama/Hellboy in Hellboy Animated: Iron Shoes (2007)
Elder Vorin in Terra (2007)
Gunnar in Outlander (2008)
Anung un Rama/Hellboy in Hellboy II: The Golden Army (2008)
Brother Samuel in Mutant Chronicles (2008)
Father Duffy in I Sell the Dead (2008)
Clarence "Clay" Morrow in Sons of Anarchy (2008-2010)
Wesley in Devil's Tomb (2009)
Jim in The Job (2009)
Felson in Season of the Witch (2010)
Corin in Conan (2011)
Quotes
Please add some quotes from this performer about their work in Marvel movies!
Ad blocker interference detected!
Wikia is a free-to-use site that makes money from advertising. We have a modified experience for viewers using ad blockers

Wikia is not accessible if you've made further modifications. Remove the custom ad blocker rule(s) and the page will load as expected.