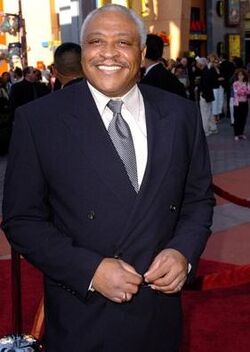 Ron Canada portrayed Gabriel Jones in Nick Fury: Agent of S.H.I.E.L.D..
Significant roles
Graydon in Adventures in Babysitting (1987)
Anderson "Mary" Roche in Stat (1991)
Marshall Brooks in Honey I Blew Up the Kid (1992)
Coach Chet Corley in Mr. Cooper (1994-1995)
Judge Orrin Bell in Murder One (1996)
Fesek in Star Trek: Voyager (1999)
Dr. Ethan Carter in City of Angels (2000)
Judge Henry Griffin in Philly (2001-2002)
Richard Barnes in One on One (2001-2004)
Herb Keble in The Human Stain (2003)
Police Chief Tom Bankston in The Shield (2003-2004)
Theodore Barrow in West Wing (2003-2006)
Guard Woodruff in National Treasure (2004)
Adult Marcus Ride in Jack & Bobby (2004-2005)
Randolph in Wedding Crashers (2005)
Dr. Walsh in Just Like Heaven (2005)
Senator Slater in Ugly Betty (2006-2007)
Judge Willard Reese in Boston Legal (2006-2008)
Quartus in Stargate SG-1 (2007)
Quotes
Please add some quotes from this performer about their work in Marvel movies!
Ad blocker interference detected!
Wikia is a free-to-use site that makes money from advertising. We have a modified experience for viewers using ad blockers

Wikia is not accessible if you've made further modifications. Remove the custom ad blocker rule(s) and the page will load as expected.