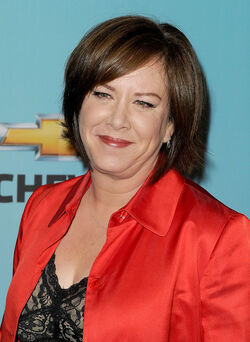 Romy Rosemont portrayed Shawna Lynde in The Avengers.
Significant roles
Dr. Debbie Waldman in Lovely & Amazing (2001)
Sara in ZigZag (2002)
Jacqui Franco in CSI: Crime Scene Investigation (2002-2005)
Margaret Pool in Shark (2006)
Dr. Julia Seales in The Frank Anderson (2006)
Rema Saunders in Dirt (2007)
Dr. Gardner in Swingtown (2008)
Gail Dwight in Ghost Whisperer (2009)
Carole Hudson in Glee: Director's Cut Pilot Episode (2009)
Carole Hudson-Hummel in Glee (2009-2012)
Jo Ellen Paxton in Hawthorne (2010)
Pig Mother in Kung Fu Panda 2 (2011)
Dr. Wolk in In Plain Sight (2011)
Molly Haller in Drop Dead Diva (2011)
Quotes
Please add some quotes from this performer about their work in Marvel Movies!
Ad blocker interference detected!
Wikia is a free-to-use site that makes money from advertising. We have a modified experience for viewers using ad blockers

Wikia is not accessible if you've made further modifications. Remove the custom ad blocker rule(s) and the page will load as expected.